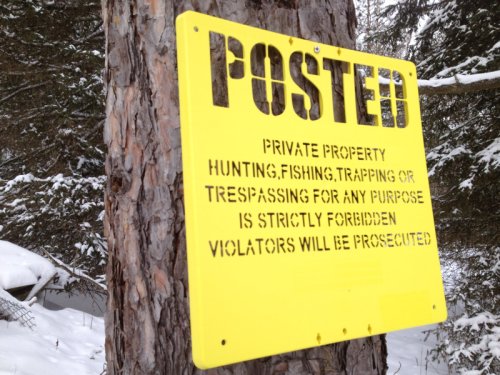 A personalized posted sign has a custom name and address molded in the sign. This personalization will not wear out and saves time of hand writing each sign and it looks better too.
1) Serious Property Markers have a reputation of supporting SERIOUS PROPERTY OWNERS in the venture of keeping trespassers at bay.
Serious Property Markers are more than a warning for those that do not respect your investment. Serious Property Markers communicate your high level of commitment. Serious Property Markers take that commitment to a whole other level. Let them know you're a Serious Property Owner by using Serious Property Markers!
2) Serious Property Markers offer a cost-effective solution to the shortcomings of traditional posting signs.
Traditional posted signs require a backer board and poster. They tend to fade and wear out over time. Our posted signs require no backer board. With a traditional posted sign, maintenance is required to replace out-dated and worn out signs, but with our signs, no maintenance will ever be required because of their extreme durability.
3) Serious Property Markers are simple to install.
Our property markers can be used with zip ties that allow for a simple set up and can be placed anywhere that a nail or screw can be used. SERIOUS PROPERTY MARKERS are designed for quick and easy installation.
4) Serious Property Markers are highly durable.
Built from a highly durable, space age compound, our property markers are built to last, saving you loads of money year after year! The ability to withstand UV rays, acid rain, high wind and extreme temperatures is a short list of the strength our property markers offer..
5) Serious Property Markers can be personalized.
Traditional posted signs cannot be personalized. We offer the unique ability to customize your property marker by putting your name and address or any other property owner's information on the sign. In addition to this, we offer free personalization on orders of 100 or more per color!